Our Therapists
We have a number of massage therapists working for/with Keheren Therapy, all of which bring a different range of knowledge and experience in the use of massage in therapy
Deborah Slater (owner and therapist at Kingston and Richmond)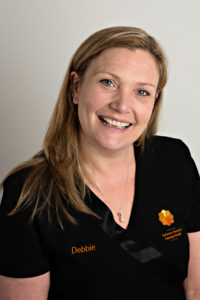 After working as a nurse for many years and being a back pain sufferer I discovered the benefit of deep tissue massage therapy for myself.  I discovered that massage could help speed my recovery and that I didn't have to rely on analgesia alone. I was privileged to have the knowledge and expertise of Dave Marriage (formally of the Pain Clinic Truro) to act as my mentor.
Hydrotherm experience level one (distinction)
VTCT level 3 diploma in Sports Massage Therapy.
S.N.H.S Diploma Reflexology
VTCT Level 3 Swedish Massage.
Advanced level 2 Hydrothem Massage.
Hydrothem Massage in Pregnancy level 3.
Qualifications in Anatomy & Physiology
Liza Rangecroft (senior therapist, Truro)
I work along side Debbie at Keheren Therapy, practicing Hydrotherm Massage. I have previously worked as a staff nurse, with over 17 years experience, specialising in gynaecology.
Carrying my nursing knowledge with me as a massage therapist and my previous studies of anatomy and physiology have been invaluable in enabling me to understand the muscular system and postural related problems, that result in pain or injury.
I have also found my experience in gynaecology and also having twice experienced pregnancy and childbirth, especially helpful in understanding the problems associated with pregnancy. It is a pleasure to be able to relieve some of those unpleasant aches and pains by offering  massage for pregnancy, which is also a  wonderfully relaxing treatment.
I get massive satisfaction from being able to make a difference to peoples day to day lives whether it is alleviating pain or offering relaxation through massage and an escape from the stresses and strains of life. Every day I am amazed and humbled by being able to share such a lovely treatment and make a difference.
Liza is an approved Hydrotherm Therapist with distinctions in Hydrotherm Experience/clinical and Hydrotherm massage in Pregnancy
Jane Louise Bowry (Massage Therapist and Reiki Practitioner, Truro)
I started my career as a legal secretary and although there were good times, I knew there was more. I discovered I had a natural talent as a massage therapist and 10 years later have been treating an established client base in Surrey prior to my move to Cornwall.
I advanced my skills and experience by studying and qualifying as an insured Advanced Deep Tissue massage therapist and Reiki Master,
My speciality lies in deep tissue work, trigger point therapy, stretching and sub occipital release. I have also had the pleasure of working at various hospitals and hospices in Surrey providing massage and Reiki to patients.
I am passionate about all treatments of massage therapy, and the benefits and positive difference that massage can make to our everyday lives. It is for this reason that I do what I do whilst continually pursuing the development of muscle therapy knowledge.
Many clients say to me 'I love how I don't need to tell you anything you just know what to do' – Massage is what I was born to do and I cant imagine doing anything else!
Jane joins the Keheren Therapy team on August 9th for more information click here