Massage Richmond London: Keheren Therapy, the Hydrotherm System.
We are delighted to announce the opening up of a new practice offering massage in Richmond, West London. This follows the successful running of our flagship company in Cornwall for the past 10 years!
Keheren Therapy works out of a dedicated clinic room in FE' Hair and Beauty. Available to treat your muscular ailments and provide massage services in Richmond.
We continue to offer the same high-quality service from an experienced therapist to treat your muscular aches and pains. We are offering a range of treatments to leave you feeling fully revitalised.
FE Hair & Beauty is a friendly salon based in Richmond, located on the A316. Fe's friendly and experienced staff offer a range of beauty treatments including nails such as manicures and pedicures and waxing treatments. In addition, an onsite hairdresser is available. As a result, you can receive a variety of treatments whilst visiting Keheren therapy! Most noteworthy, the FE salon is only approximately a ten-minute walk from Richmond train station.
Massage Richmond London: all the treatments you can have at Keheren therapy via the Hydrotherm Massage System
Our Richmond branch is also able to offer onsite chair massage. Brilliant for corporate or events, this kind of massage can easily come to you.
Kehren Massage Richmond London – Opening Days and Times
Thursdays: 10am – 8pm
Saturdays: 9am – 6pm
Furthemore, other appointment times and days are available – please phone or email for details. Or take a look at are online booking system.
Massage Richmond London Clinic Features
Quiet location
Friendly salon
Convenient location
Parking available nearby (permit provided)
located near Mortlake, Hounslow, Twickenham, Kew, Kingston, Richmond, Barnes, Chiswick, St Margaret's. Just a 30-minute train journey from Waterloo in Central London.
A short walk from nearby bus stops and Richmond or North Sheen train stations.
Prices for Keheren Therapy Massage Richmond London
30 Minute treatment £40.

6o Minute treatment £70.

90 Minute treatment £100
All treatments include a free 15 minute consultation.
If you wish to cancel your appointment over 24 hours in advance please follow the link on your appointment confirmation email. If cancelling within 24 hours of your appointment please phone us on 07961 818688 or 020 8940 3366

Or email info@keherentherapy.co.uk 
Please note that cancellations made less than 24 hours in advance will be charged at full price unless resold. 
Where to find us
Fe' Hair and Beauty
221 Lower Mortlake Rd,
Richmond
TW9 2LN
Book online
We are on the A316 in Richmond Upon Thames between Manor Circus and Richmond train station in a friendly group of shops opposite The Crown Public House. Conveniently serviced by bus numbers 190,371,391,419,493 H22, H37, R68 and R70 (alight at Manor Circus or Sheendale Rd.) Please ask for details of nearby car parking.
NB – please note the treatment room at Richmond is downstairs – no lift available
What our clients say about Keheren Therapy – Massage Richmond London:
Debbie is expert at taking your history and then deftly getting in to all the tangles and knots with her healing hands, her pads and her oils. You're warm, safe and relaxed and the tension melts away like magic.
F.
Everything! The treatment on the warm waterbeds feels very indulgent, and a bit different to a normal massage. But most importantly I felt very safe in the hands of Debbie because she is a trained medic, and is very friendly and relaxed.

On one occasion I did feel quite unwell a few hours after my massage because of the release of toxins, which is more of a testament as to how effective the treatment is. I now make sure that I have no plans after the massage so I can go straight to bed if necessary!

I feel that I have given my body a bit of a treat, a bit of 'self-love' and shown it some gratitude. So I benefit both physically and emotionally. Debbie's massages are legendary, and it is always a treat to book in. She is friendly, warm-hearted, and an expert in her field. Not only are the massages brilliantly relaxing, but they are also great at keeping on top of any little physical niggles so that I can continue enjoying various activities without being hampered by injury. The fact that Debbie is also medically trained means that I feel completely safe in her hands. I would recommend everyone to try a Keheren Therapy massage!
S.
Debbie literally has magic hands that untie the knots and melt away the stress with just the right amount of pressure, leaving you feeling wonderfully relaxed.

The therapist listened to what I needed and focussed the massage on that area.

I've found a wonderful therapist I can trust and feel comfortable with, who is a very good listener and kind soul!
F.
I love Debbie's lovely manner. The fact she is the only person that can make my sore neck and shoulder better.

I have a niggle in my shoulder and neck – Debbie manages to work the knots just right so that I am pain-free. She also gives tips on how to stop the pain from coming back!
Summary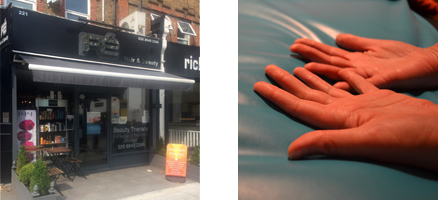 Service Type
Hydrotherm Massage Richmond London
Provider Name
Keheren Therapy
,
221 Lower Mortlake Rd
,
Richmond
,
TW9 2LN
,
Telephone No.07961818688
Area
Description
Keheren Therapy provides Pregnancy, Sport, Deep Tissue, Relaxation and Oncology Massage Richmond London (on the A316) via the Hydrotherm System.