Relaxation Massage
A Relaxation Massage is one of the most pleasant experiences that anyone can have.  Massage is recognised as one of the best ways to relieve the stresses and strains of modern life. Many health benefits and relief of chronic pain can also be achieved.
What is relaxation massage?
The clue is in the title! Our skilled therapists will provide a full body massage with soothing music (client preference – you are welcome to bring your own) and soft lighting. Our sole aim is to real you and provide a sense of well-being. Allow yourself some time on either side of the massage so you do not need to rush.
Relaxation and Hydrotherm
You will begin to relax from the moment you lie down….
Hydrotherm differs from other types of massage as it is carried out with the client lying face up on two cushions that are filled with warm water, heated to between 30-40 degrees. Swedish massage, deep tissue massage and other techniques have been adapted to provide the ultimate body massage experience.
This ensures the whole of the client's back is in contact with the heat and is ideal for those who find lying face down uncomfortable.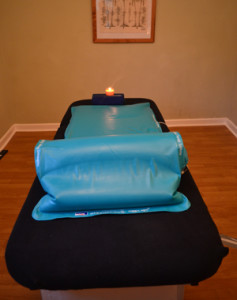 Massage therapists use oil to slide hands between the clients' body and the cushions. This means the pressure is in an upwards motion rather than downwards and so works against the body's weight.
The water supports the body and the heat from the water enables tight muscles to begin to relax before the massage even starts. The system is designed to give perfect spinal alignment whilst in this position.

HYDROTHERM is suitable for all ages and it is particularly suitable in the later stages of pregnancy. Soft tissue manipulation is just as effective for non-active people as it is for top athletes. All of our treatments in Truro, Richmond and Kingston take place using the Hydrotherm massage technique.