Relaxation Massage
A Relaxation Massage is one of the most pleasant experiences that anyone can have.  Massage is recognised as one of the best ways to relieve the stresses and strains of modern life. Many health benefits and relief of chronic pain can also be achieved.
What is relaxation massage?
The clue is in the title! Our skilled therapists will provide a full body massage with soothing music (client preference – you are welcome to bring your own) and soft lighting. Our sole aim is to real you and provide a sense of well-being. Allow yourself some time on either side of the massage so you do not need to rush.
Keheren therapy's relaxations are all about freeing you from the stresses of your daily life. We're not looking for any underlying ailments, and so our relaxation massages are slower and use lighter pressure than our deep tissue massages. After one, you'll leave us feeling soothed and relaxed in body and mind, and with a profound sense of physical and mental well-being.
During your massage, you can chat to your therapist or simply listen to your own thoughts. Clients often fall asleep when they're with us – it really is that relaxing! It's your time to do whatever you need to shake off your cares and pamper yourself, and it's our pleasure to make it happen for you.
Our clients love their relaxation massages, and we're so pleased that they come back to see us again and again. Why not join them, and find out for yourself just how satisfying they can be?
Relaxation and Hydrotherm
You will begin to relax from the moment you lie down….  Our warm water filled Hydrotherm cushions allow an uninterupted full body massage, no face holes, no turning over.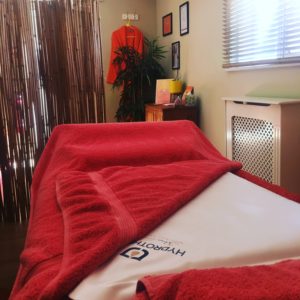 relax on warm, water filled cushions          experience Hydrotherm today