Oncology Massage
Our therapists are confident and trained in providing oncology massage for clients who are coping with the effects of treatment for cancer.
We have taken special training and an oncology massage course provided by the Amethyst Trust, endorsedby Penny Brohn UK, who are pioneers in the "whole person" approach to cancer. We are fully insured too.
We believe that our therapies are safe and effective for everyone.
Can massage help me?
Generally, massage therapy can help lift your mood, improve your sleep and enhance your well being. Massage for people with cancer is recommended as a natural way to help you relax and cope with:
Massage helps you feel good. It is a way to help you feel like yourself again.
What to expect
Our therapist will ask you some general questions about your health, lifestyle, and medical history on your first visit. We may ask to speak to your GP if we are concerned that massage could interfere with your treatment. In general, it is rare that your doctor will say "no", or indeed that we will need to ask. We will tailor your massage treatment around any medical care that you may be receiving.
Hydrotherm and Oncology massage
Our massages are facilitated with the Hydrotherm system. This allows you to avoid lying on any scar tissue or any medical devices necessary for your cancer treatment. For example, if you have had breast cancer treatment, Hydrotherm massage prevents you from lying on your front. Massage techniques are adapted to suit your needs.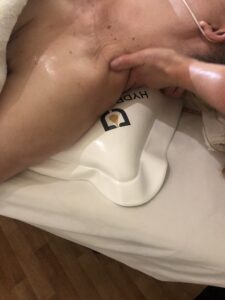 Oncology massage is provided at  Keheren Therapy by:
Lauren Lyndon -Hill – Sports Therapist, Sports Massage Therapist and Massage Therapist
Catherine Manby – Massage Therapist, Sports Massage Therapist
Debbie Slater – Massage Therapist, Sports Massage Therapist
Training in Oncology massage
Debbie Slater is an approved trainer for the Amethyst Trust and has vast experience in training therapists to provide these treatments. For more information email training@keherentherapy.co.uk (South West of England Including London)
I had an amazing day of training. Debbie was great at explaining everything about dealing with cancer patients. Her knowledge is impressive, especially from a medical/scientific/research perspective (Student October 2017)