Sports Massage & Sports Therapy Truro
Book a Massage Online with Lauren @ Truro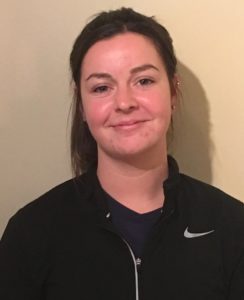 Massage therapy Truro: If you would like to book a massage online, please use the form below. Alternatively use the details opposite.
 Appointments are made available 6 weeks in advance.
Please note that cancellations made less than 24 hours in advance will be charged at full price unless resold
About Lauren
Lauren is a graduate from Marjon Plymouth University with a BSc (Hons) in Sports Therapy and an MSc in Sport and Exercise Psychology.
Lauren says: " I have been fortunate enough to work with various sportspersons, as well as clients which come from a non-sporting background.
My time at Plymouth Marjon University involved working within a clinical setting, treating members of the public of all ages and athletes.
I currently work for the Cornwall FA Girls Advanced Coaching Centre (ACC) and AFC St.
Austell as a sports therapist providing a professional, competitive and high-quality service to adolescents and adults.
In addition, my role involves pre-habilitation, injury diagnosis upon full assessment, injury treatment, specifically designed fun rehabilitation protocols to suit the player's needs.
Injury prevention, strength and conditioning, pitch side first aid, sports massage, kinesiology and rigid tapping.
Then Within my Sport and Exercise Psychology degree, I was very lucky to work alongside a professional sport in the British Basketball League (BBL), Plymouth Raiders Basketball Team.
Although this was based around Sport Psychology, I took particular interest to those players who were injured, in the injury rehabilitation process, or were returning to play from injury.
Then It was very interesting to see how this may have affected them being in a professional sporting environment."
"Working in the real world as a sports therapist for 3 years since graduation, I have realised that massage is a massive part of the bodies function in terms of recovery and maintenance.
Therefore I am very passionate about my role as a sports therapist, for the reason that I enjoy what I do by helping patients with their needs.for example, reducing pain or enhancing relaxation.
Then  I always enhance my knowledge by allowing to find innovative and progressive ideas, and willing to help cross described goals".
Qualifications:
BSc (Hons) Sports Therapy
MSc Sport & Exercise Psychology
Emergency First Aid at Work (QCF LEVEL 2)
Circuit Training Instructor
Level 2 Gym Instructor
Rocktape Level 1
Rocktape Level 2
FHT (Level 4 Diploma in Soft Tissue Therapy)
Medical Acupuncture (Level 1)
FA Level 1 Introduction to First Aid in Football (IFAIF)
FA Safeguarding Children
Hydrotherm massage
Massage in Cancer.
Reviews for Lauren
Completed an online assessment with Lauren for a knee injury.

In other words, easy process to book and then navigate online to begin appointment.

After that Lauren was very knowledgable and made things easy to follow, I particularly liked the part with the pen marks on her skin.

Then I mirrored on mine, to pinpoint as best as possible what the problem/where the pain was according to each movement/position.

ThenThe instructions for the movement tests were also clear.

A written assessment was forwarded to me, along with an excellent online rehab programme.

In conclusion I can finally look forward to the recovery and getting active again!

April 2016
---
Truro