Sports Therapy and Sports Massage by Lauren
Lauren joined the Keheren Therapy team in March 2020 as a Sports massage therapist and Sports Therapist in Truro.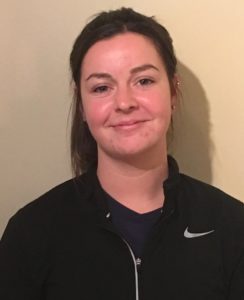 Lauren is a graduate from Marjon Plymouth University with a BSc (Hons) in Sports Therapy and an MSc in Sport and Exercise Psychology.
You don't need to be a sports enthusiast to benefit from Lauren's knowledge. Sports therapists are trained and insured to treat musculoskeletal disorders.
They are trained to a higher level than sports massage therapists but include massage therapy as an integral part of their care.
Lauren will be providing treatments using the Hydrotherm system to facilitate and is a member of the Sports Therapy Association.
Questions and Answers with Lauren
What path did you take to become a sports therapist?
I went to college to study sports  BTEC level 3 at Cornwall College. I then progressed by applying at the University of St Mark & St. John, where I began my journey and studied a BSc in Sports Therapy for 3 years.
What are the best and worst things about your job?
The best part about my job as a sports therapist is being able to see to a huge difference in athletes/clients after one or more treatments.
(Seeing people either with increased mobility or pain-free), it is definitely a rewarding job.
This job can be very rewarding.
Unfortunately in some cases, some injuries or conditions and may require further assessment or may consider operative surgery.
Therefore, not being able to treat all injuries or conditions can sometimes be hard, especially when seeing those athletes or clients in pain.
What is the best advice you can give people wanting a career in sports therapy?
In order to be a professional sport therapist, you must be caring and understanding towards your athlete or client.
For example, it's important to understand and consider how much pain or discomfort an athlete or client may be in.
Also, it is important to understand how this injury or condition may affect their daily life, such as, their hobbies, occupation or sporting ability.
A normal day as a sports therapist often involves injury assessment, injury diagnosis, providing various treatments that may help (such as massage) and other additional treatments that may be considered.
What made you want to become a sports therapist?
I remember being a child and watching the 2008 Summer Olympics in Beijing.
I was watching sports therapist's dealing with any injuries that may have occurred.
Also, I had an interest in being able to manage those injuries in such a professional environment with a possibility of returning those athletes back to sport from injury.
I wanted to be that person that dealt with injuries as well as managing those injuries and seeing those athletes return to sport successfully. I then began studying Sports Therapy because I always loved sport and had a massive interest in injuries and conditions.
Although my degree was sports-related, I have also spent a lot of my time dealing with those injuries or conditions.
Conditions that are not specifically related to the sport as well.
You can find out more about Lauren here.
You can find out more about a typical Sports Therapy Session here.
Online Sports Therapy is available with Lauren, use the button below to book.
Sign up to our newsletter here.
Book online
Summary
Name
Website
Job Title
Address
Keheren Therapy, Woodbine Farm, Truro Business Park

,


Truro

,

Cornwall

,

TR3 6BW