Massage for Back Pain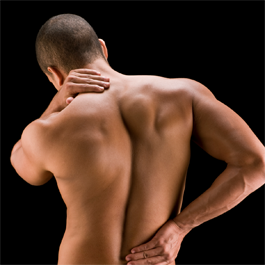 At Keheren Therapy we believe in bringing our (guests, clients or customers) the very best and most effective treatments especially to those experiencing muscular pain and discomfort of the back neck and shoulders The effective treatment of muscular pain relies upon a number of key factors including knowledge of applied anatomy, experience and skill in treating these types of problems; another consideration if appropriate, is the use of warmth and massage combined together to provide effective treatments.
We have invested in the Hydrotherm massage system, a proven technology in effective massage therapy designed by British Sports and Remedial therapist John Holman. The system comprising of two cushions of warm water and lumbar support facilitates perfect spinal alignment and supreme comfort, furthermore our guests never experience the discomfort of laying face down on a couch or uncomfortable face holes during their time with us as the entire treatment is carried out face up.
Effective relief from muscular aches and pain from experienced therapists is available to you at Keheren in Truro, Kingston and Richmond.
Are Deep Tissue Massage and Sports Massage Painful?
It's sometimes necessary to go through a little discomfort to sort out deep-seated, chronic pain. This is because the body occasionally resists the pressure being applied, rather than being caused by the depth of the massage itself – the discomfort is a sign that we are getting to the source of the problem.
Keheren therapists are very highly-trained and use the minimum required pressure to address the causes of the back pain and aches that people want treated. Any discomfort keheren clients feel is very short-term – and well worth going through for the lasting pain relief they experience.
Conventional sports massage techniques can be applied to your treatment on the Hydrotherm system, Debbie (Richmond and Kingston branches)is a qualified sports massage therapist whilst Liza (Truro) is trained in deep tissue and/or advanced techniques.