Fibromyalgia and massage benefits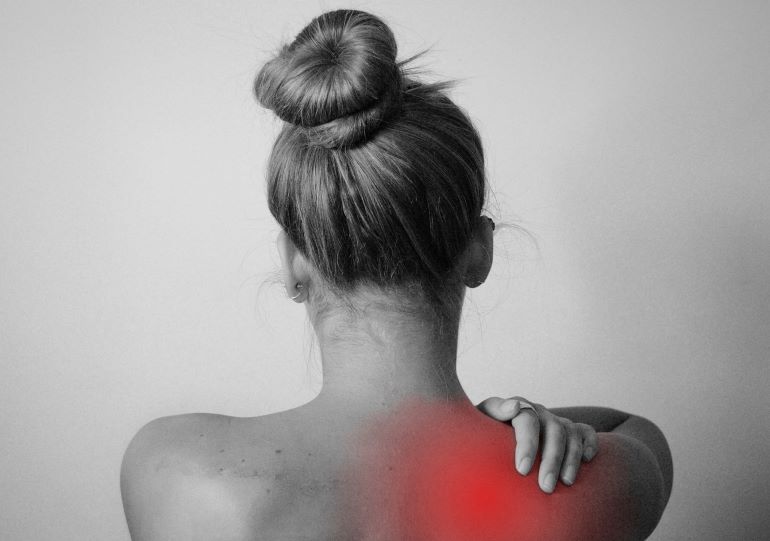 Over the years spent as massage therapists, we have treated many people with Fibromyalgia. In this article, Lauren explores the evidence surrounding the many benefits for this client group.
What is Fibromyalgia?
Certainly, Fibromyalgia is known as a long term condition, which causes chronic widespread musculoskeletal pain to the body (Sluka & Clauw, 2016; Fischer, 2017). There is often no reason or cause for this condition. However, it is known to be caused by previous stressful events such as birth, an operation, injury, viral infection, bereavement, or personal life problems (NHS, 2020).
This condition is caused by abnormal pain messages, chemical imbalances, genetics, possible triggers (stressful or traumatic events) and issues with sleeping patterns (NHS, 2020). 
In addition, Individuals with this condition may present with different or varying symptoms. Therefore people will present with widespread chronic pain to the body, as well as other various symptoms including muscle stiffness, abnormal sleeping problems, increased pain sensitivity, fatigue, headaches, irritable bowel syndrome and problems with concentration or memory (Lukkahatai et al., 2016; Jacobs et al., 2018).
Various forms of massage techniques within massage therapy have been shown to have beneficial effects on fibromyalgia symptoms.
To sum up, These beneficial effects include:
easing pain and spasms
reducing stress
improving fatigue
increasing relaxation
improving mobility
and most importantly, improving someone's quality of life.
How can massage help fibromyalgia?
Firstly, Massage therapy is one of the worthwhile complementary and alternative treatments used for people with fibromyalgia. Massage helps to relieve pain, reduce fatigue, anxiety and stress. Therefore is a great form of treatment for pain management and to add towards a treatment plan for those with fibromyalgia (Li et al., 2014). Massage therapy has also been shown to be a non-drug therapeutic approach for those who suffer from this condition (De Oliveira et al., 2018).
Sleep
Due to massage therapy being a holistic and therapeutic approach, this can help to significantly reduce anxiety and stress levels (Field, 2016). With abnormal sleeping patterns being a common symptom within fibromyalgia patients, massage therapy is known to help the quality of sleep, due to massage therapy being a mediating variable for pain reduction and management  (Field, 2016). In conclusion, Sleep is very important for the body, allowing the muscles to relax, repair and enhance recovery.
Relaxation
Massage for fibromyalgia patients is a great way to generate a sense of relaxation. In turn, this can help those receiving treatments to have a relaxing and deep sleep. Consequently, Massage therapy has beneficial effects on the manual lymphatic drainage, which helps to reduce muscle stiffness, depression, increase mobility and increase an individual's quality of life (Yuan et al.,2015).
Myofascial Release
The myofascial tissues surround and support the muscles throughout the body. In addition, Fibromyalgia can cause tender points and tightness to the myofascial tissues located throughout the body. This is the reason why people with fibromyalgia complain of chronic widespread pain across the whole body.
Within massage therapy, a massage technique called myofascial release therapy can be used as part of a sports massage or remedial massage. This is when pain usually originates from specific points within your myofascial tissues called trigger points. Massage therapists performing this form of treatment will focus on reducing pain by easing the tension and tightness in the trigger points.  In doing so, massage therapists want to help with being able to improve pain and as many symptoms as possible. For example, reduce fatigue, stiffness, and most importantly improve quality of life (Yuan et al., 2015).
As a massage therapist, it is fantastic to see the benefits it has on a patient's quality of life using various types of massage, such as, sports massage and swedish massage.
The Hydrotherm system and Fibromyalgia
Here, at Keheren Therapy, we have a Hydrotherm System, which involves warm water-filled pads placed on top of the massage couch. This fantastic set up also allows the patient to stay in one position throughout the whole massage. Meaning that the patient can lay on their back the entire time and does not need to change position at any given point. This is particularly useful for people who suffer from widespread chronic pain, fatigue, stiffness, and mobility issues.
In these current challenging times, here are some  fantastic ideas to try and relieve  fibromyalgia pain:
Self-massage – In a time of need, you can use various objects to self-massage. For example, your own hands, a softball (tennis ball) or hardball (a golf ball), or a  foam roller.
Have a bath – Warm water often eases pain, enhances relaxation, eases stiffness and improves well-being.
Mindful Movements – Moving and stretching in a slow and mindful way, which is a magnificent form of meditation.  It's a great way to check-in with your body! Mindful movements can include controlled breathing and movement exercises, such as yoga.
Meditation – Above all, Meditation helps to relax and ease into a more mindful state.
In conclusion, Come and see the benefits of massage for Fibromyalgia yourself by booking a massage with Lauren @Keherentherapy