CHSW Business Club
Keheren Therapy  joins CHSW Business Club
Keheren Therapy based in Truro has joined Children's Hospice South West's (CHSW) Business Club and is urging others to join with them, showing their support for the charity in its 30th anniversary year.
At Keheren Therapy we are proud to have held several fundraising events for CHSW. In light of the covid pandemic and the struggles and hard work this fantastic charity have put in we have chosen them as our charity of the year in 2021.
As part of this we decided to join the CHSW Business Club and we are looking forward to the opportunities it may bring throughout 2021.
Debbie at Keheren Therapy said; I attended several of the virtual fund raising events ran by CHSW during lock down and found the staff that work there motivating and inspiration …when they asked me to join their business club it was a no brainer!
The CHSW Business Club has been set up with the aim of recruiting 100 businesses, each paying £300 for their membership, which could see £30,000 being raised for the charity in its special 30th year.
There are a range of benefits to joining the CHSW Business Club including building connections, raising awareness of your business and, crucially, helping make a difference for local children with life-limiting illnesses and their families.
Since the founding of the charity in 1991 CHSW now has three children's hospices in the south west; Little Bridge House in North Devon, Charlton Farm in Somerset and Little Harbour in Cornwall. The hospice teams provide vital care to over 500 children with life limiting illnesses and offer much needed support to families.
If you are interested in finding out more about or joining the CHSW Business Club simply visit www.chsw.org.uk/businessclub or call Amanda Gallagher, CHSW Corporate Fundraiser, on 01275 866 600.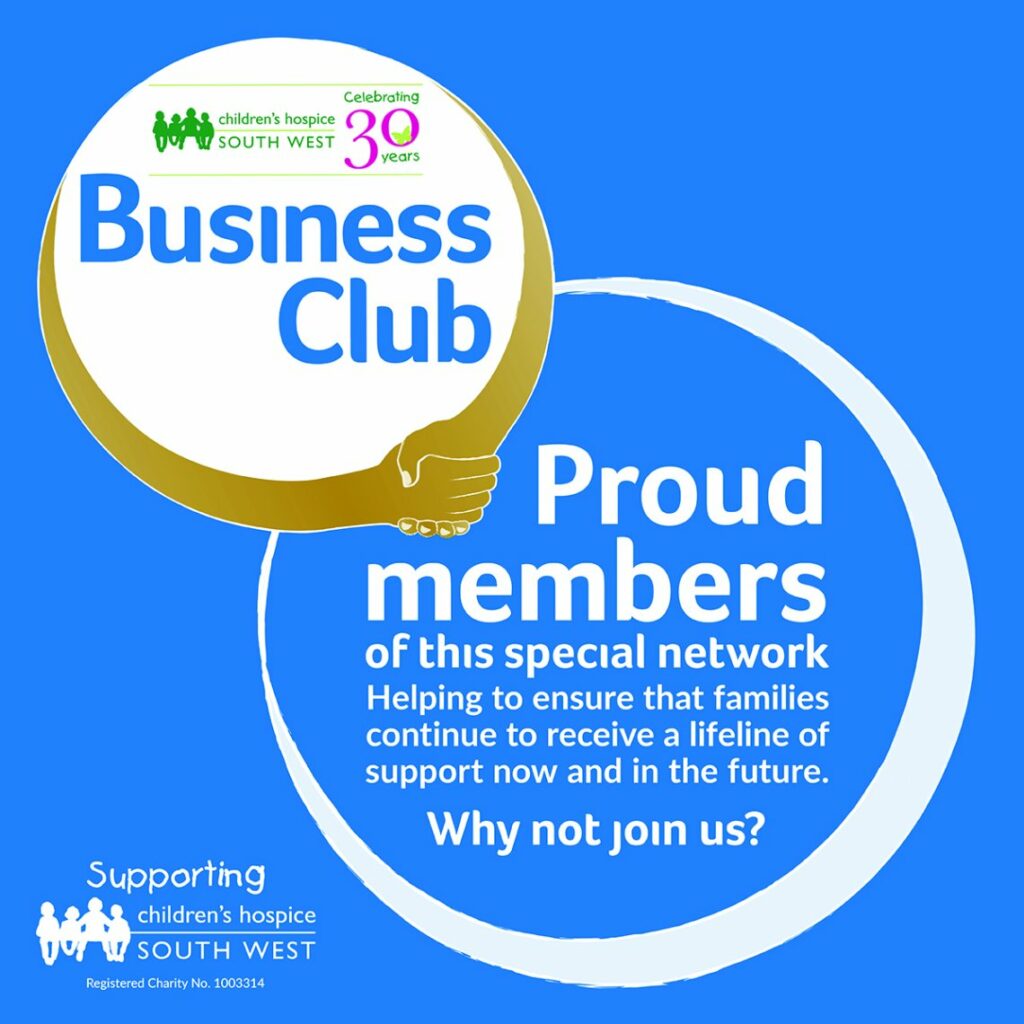 Children's Hospice South West (CHSW)
Children's Hospice South West was first registered with the charity commission in 1991 and is celebrating its 30thAnniversary in 2021
It is dedicated to making the most of short and precious lives, providing the best possible hospice care for life-limited children and their families
There are three hospices in the South West: Little Bridge House in Barnstaple (opened 1995), Charlton Farm in Bristol (opened 2007) and Little Harbour in St Austell (opened 2011)
CHSW is the only children's hospice in the South West. It costs around £11 million to run the 3 hospice sites each year and the charity relies almost entirely on voluntary contributions
CHSW delivers a range of services including short breaks, specialist play, music therapy, activities for siblings, palliative and emergency care, end of life care, bereavement support and specialist medical care – all available 24 hours a day, 365 days a year
The services are free for families. To find out more about our work, visit www.chsw.org.uk
Twitter www.twitter.com/CHSW
Facebook at www.facebook.com/CHSW1991
Instagram www.instagram.com/childrenshospicesw