Onsite Chair Massage in Truro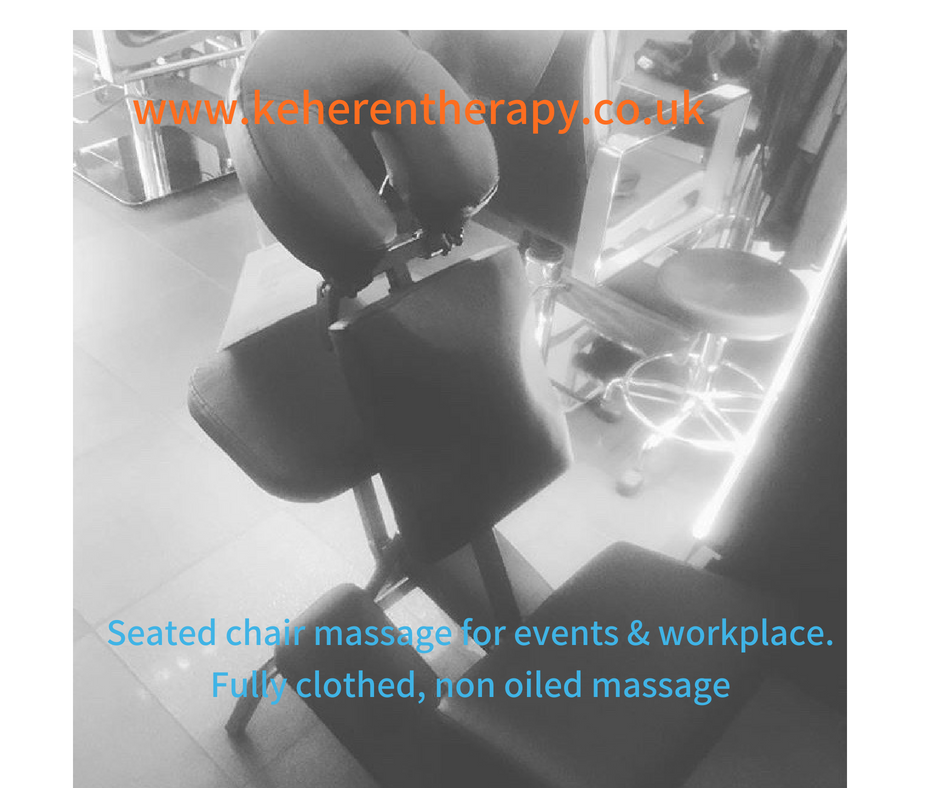 Onsite Chair Massage in Truro (Cornwall) and surrounding areas for corporate and events
Our Onsite Chair Massage is the perfect offer for corporate workplace or events in Truro  and surrounding locations. Using a specially designed seated chair, local professional massage therapists will bring this non-oiled, fully clothed massage to you.
An Onsite Chair Massage can:
reduce tension,
resolve headaches,
relieve stress,
improve focus.
Only for the the experimental group both strain and blood pressure were significantly reduced during treatment, not for the control group. Really, this study provides initial support for the effectiveness of workplace-based massage therapy as part of a comprehensive workplace health strategy.

"Afterwards, a small-scale trials of office massage therapy among employees have suggested that on-site massage therapy may encourage physiological reactions such as

lowered cortisol levels (Field et al., 1996)
and reduced blood pressure (Cady and Jones, 1997), indicating that the therapies had a relaxing effect.
In fact, a more recent trial of massage and acupressure in the workplace showed:
similar reductions in physiological measures of blood pressure and heart rate in the treatment group,
reductions in psychological measures of anxiety and depression (Hodge et al., 2002).
enhanced well-being
and improved sleep patterns.
Improved Job Performance
Generally, an onsite chair massage improves the job performance. Actually, studies have demonstrated that 15 minutes of chair massage, twice a week can improve brain performance.
The study "The Effectiveness of Massage Therapy Intervention on Reducing Anxiety in the Workplace" proved the effectiveness of an on-site chair massage therapy program in reducing anxiety levels of employees.
Summing up, the massage group showed
significant reductions in anxiety levels,
an increase in feelings of contentment and well-being,
and the working performance improved.
"Employee outcomes following work-site acupressure and massage" by Hodge et. al. found that massage performed at the job site improved feelings of well-being in workers. Employees receiving office massage reported feeling an increase in general well-being. Also, they felt less depression and anxiety symptoms. Furthermore, their ability in emotional control increased and their sleep improved.
Recent studies in massage therapy treatment also report encouraging results with regard to psychological strain symptoms, such as:

a reduction in depressive symptoms (23)
and decreased anxiety levels (2).
Similarly, massage treatment improves mood and well-being states (4),
increases alertness,
and enhances cognitive and work performance (24,4).

In fact, after healthy adults received a 10-minute seated chair massage therapy session, anxiety scores decreased for all participants"
The study found out that the employees receiving corporate massage maintained job satisfaction. Instead, those not receiving massage had a decline in job satisfaction (Hodge et.al. 2000).
How does an Onsite Chair Massage work?
Onsite Chair Massages are ideal for a quick turn-around because there is no need to undress. In fact, the chair supports legs and arms and is specially designed to maximise relaxation.
It takes up just the space of a normal office chair. However, the massage therapist will need some space to move around the chair.
Onsite Chair Massage in Cornwall.
As a local company, we perform chair massage sessions at corporate workplaces or events in Cornwall. Also, those wishing to access further treatments can be offered a discount at a local clinic.
You provide the time and space – we will do the rest. Whether it is a one time treat, special event, health fair or monthly occurrence.
Prices vary dependant on location and numbers. For the reasonable rates, please contact debbie@keherentherapy.co.uk.