Mobility exercises for seniors and those with limited mobility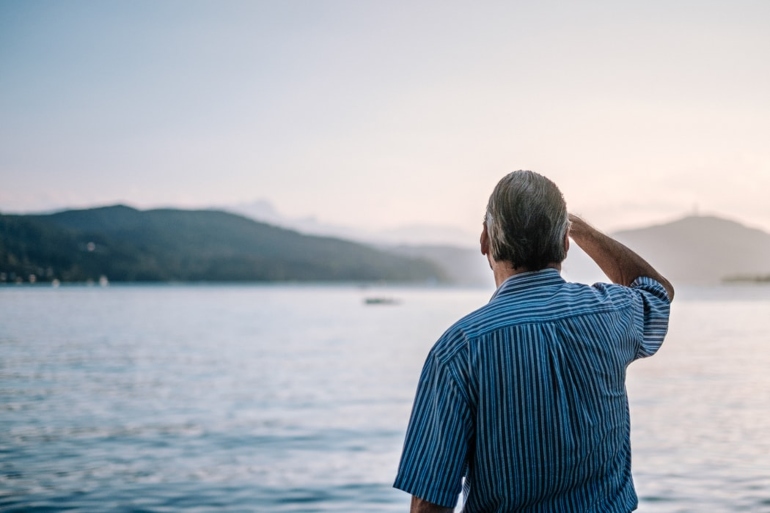 At keheren therapy part of our ethos is to ensure that massage is accessible to all.  We want to try to help people live free from aches and pains and facilitate everyone in living life to the full.
We see many clients that suffer from mobility problems and one of the many reasons we use The Hydrotherm System to facilitate our treatments is that it allows us to provide massage whilst the client is sitting up and avoids laying on your front.
In this blog we want to share with you some of our knowledge to help build strength, improve range of motion and hopefully prevent falls. It maybe that the information in this blog is helpful to yourself or that you have a relative that you can help with the information. The information is aimed at anyone with limited mobility, not just the elderly.
Why exercise is important
Maintain strength
Keep mobile
Maintain balance and coordination
Look after you're general well-being
We know that regular exercise is good for us and a daily walk is a fantastic way to keep strong and steady and reduce the risk of falling. You don't need to be working miles or setting yourself unrealistic goals, every little helps and it is important to listen to your body and not push yourself too hard.
All the components in our simple exercise routine will help an individual to gain more energy. This is also likely to help someone increase confidence and independence, as it has been suggested that regular exercise can reduce the risk factor of falling in older adults.
There are loads of great tips on how to avoid falls, trips and slips on the NHS Website. This includes prevention, causes, what to do if you fall and help available to you from the NHS.
Physical activity tips
Getting up to make a cup of tea
Moving around your home
Walking
Gardening (shovelling or digging or moving regularly)
Sweeping
Cleaning and dusting
Vacuuming
Making the bed
Standing up
Shopping (carrying bags in from a shopping delivery or going shopping)
Exercise classes are a great way to get out of the house and be sociable, many physical therapists will have classes specifically tailored for you and very often the NHS will run group classes for short courses.
Other benefits towards keeping active is that most people like to stay in connection with society, such as, their friends, neighbors and community. Therefore, being in your home, in your garden or being active around your local area will help you to achieve this and stay connected with others. For example, having something to talk about over the phone or via video calls with people, or completing these activities with someone. This could also involve completing daily activities in the garden with your neighbors or communicating with various people around your local area.
 Our exercise routines are aimed for you to do at home. They include chair exercises, strength training, and a variety of modified exercise types for you to do at home. Exercises can help your legs and arms, shoulder blades, back and upper body.  If you have any specific questions or needs please do not hesitate to contact us and we can provide some specific advice tailored to you.
Equipment such as resistance bands can be really useful, but don't worry they are not a necessity. You can use items such as dumbells, bottles, cans or even potatoes for routines.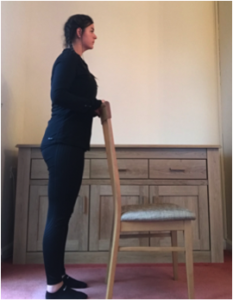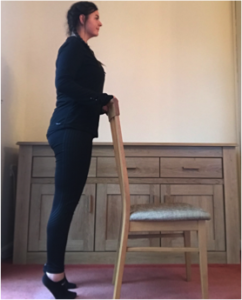 Laurens full exercise routine is here

A video version of the exercises is available on our YouTube channel
NHS websites also provide Physical activity guidance for older adults.
Tips for doing exercises
A little march will help warm you up.
Prepare a glass of water
Ensure that the chair you use is stable and sturdy.
You could use a kitchen work top or breakfast table for extra support
Wear comfortable clothes and supportive footwear.
STOP if you experience pain in joints or muscles.
STOP if you experience chest pain, dizziness or shortness of breath.
Its normal to feel a slight muscle soreness the next day.
Don't hold your breath whilst exercising – breath normally.
Why not set yourself some goals?
In these challenging times, we have seen people like the inspirational Captain Tom Moore and Margaret Payne raise money by setting themselves some challenges. Why not set some simple challenges of your own? They don't need to be massive, just something you would enjoy whilst help your physical fitness. Examples might include repotting some plants or de-weeding a small area of the garden
Especially in these tough and challenging times, what better opportunity in being able to find the time to focus on yourself and your health?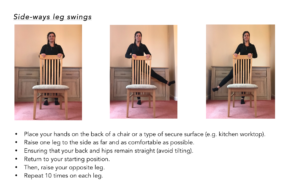 A video version of the exercises is available on our YouTube channel
Disclaimer.
The information here does not substitute medical advice – you take responsibility for your own exercise program.
Any changes in your heath, mobility, balance, pain or falls – please see your GP.