Unlocking the power of Soft tissue therapy – Enhancing Health and wellness
I recently did a presentation for a networking group in Cornwall (The Piran Network) and thought I would share with you the presentation explaining what a soft tissue therapist is.
My name is Debbie, I am the owner of a small clinic in Truro and as a soft tissue therapist I have a passion for helping individuals improve their overall well-being
You would have previously heard me introduce myself as a massage therapist and although I am a massage therapist (and am proud to be one) a lack of understanding and stigmatism within the profession (not helped by MPS calling us 'massage parlours' in lockdown!) has meant a change in tone to increase understanding of what we do.
Soft tissue therapy is a person-centred approach to the assessment, treatment, and rehabilitation of minor and chronic Musculoskeletal (MSK) injuries and pain
Person Centred care is an approach that considers individuals and their communities as active participants in trusted health care systems, meeting their needs and preferences while providing education and support for decision-making and self- care. It focuses on people's holistic needs, not just diseases and acknowledges their social determinants of health
What is Soft Tissue therapy?
The primary focus of soft tissue therapy is the manipulation or movements of muscles, tendons, ligaments, and fascia. It has a role in promoting pain relief by down regulation of the nervous system, reducing muscle tension, improving flexibility, and enhancing recovery.
The science behind soft tissue therapy
Soft tissue therapy uses an evidence-based approach, whether this be through studies or the lived experiences of our clients. We know that massage therapy can help release endorphins such as the feels good hormone serotonin. We also know that it can down regulate the nervous system via the power of touch. In turn this down regulation can improve pain, promoting movement and hence recovery. We also know that massage or soft tissue therapy can boost the circulation, whether that be vascular or lymphatic. All of these thing can help, sleep, resilience and of course pain.
Common Conditions and Benefits
Recent testimonials
Without doubt, this was the best massage I've ever had (I've had quite a few!). My back was the loosest it's ever been following a massage. Thank you so much. I will definitely be visiting again once I'm back in Cornwall.
As a massage therapist myself, I'm really fussy when it comes to finding a good therapist who knows exactly what I need & takes time to smooth out my own accumulated tension. I can totally trust falling apart in Debbie's expert hands & then be moulded back together. The hydrotherm massage starts relaxing my muscles as soon as I lay on the warm couch. Necessary & lush!
A Holistic Approach to wellness
Soft tissue therapy is holistic, by addressing not only the physical but also the mental and emotional aspects of well being.
On our consolation forms we ask about aspects such as sleep and stress levels when it comes to people being in pain – recognising that its not just the problem area its self that causes the pain but that indeed pain is multi-layered.
When introducing rehabilitation to our clients we ask – 'where do you see yourself in 4 week's time'. This means we can tailor rehab exercises to the clients' activities whether that be picking up knitting needles again or climbing Snowdon. This question does more than that, It introduces self-efficacy to our clients, getting them thinking about their own wishing, aims or goals.
By asking lifestyle questions it may also happy us identify other things going on in the person's life, perhaps they are not taking enough time for them self, perhaps they are doing too much exercise, using it as a form of self-medication. Or perhaps it's not a massage they need at all, perhaps we need to recommend they going and see their GP for further investigations.

Soft tissue therapists collaborate
Sometimes we are not the right place but we come armed with a list of Sports therapists, osteopaths, Self help tools, physios, acupuncturists.
By using a multidisciplinary approach we can provide comprehensive care and better outcomes for clients.
Practical self-care tips
Roll your shoulders:
Rolling your shoulders is beneficial because it helps relieve tension and improves flexibility in the neck and upper back. This simple movement encourages blood circulation and reduces stiffness, which can result from prolonged sitting or poor posture. By gently rolling your shoulders forward and backward, you can promote relaxation and maintain better posture, contributing to overall physical comfort and well-being.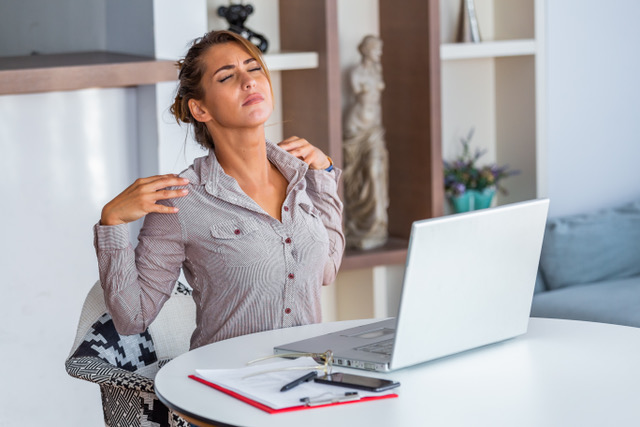 Golf balls!!
Golf balls can be used for self-massage by placing them on targeted muscle areas and applying gentle pressure. Rolling the golf ball under your body or against a wall can help release tension, alleviate muscle knots, and improve blood flow. The firmness of the golf ball allows for effective trigger point therapy, helping to relax muscles and provide relief.
Conclusion
Soft tissue therapy is evolving – it's been around for thousands of years and the benefits are still being recognised. We also know that soft tissue therapy is more than just ' a rub" . It's a person centred – holistic approach to health care that can run side by side with conventional medicine to help pain, stress, aid sleep, promote balance in life and assist in recovery from illness or injury.